Hotels and other Accommodation
World Nomads
The Travel Insurance with the largest coverage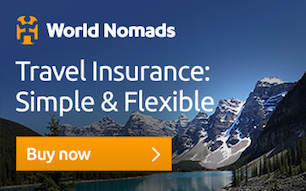 ---
Weather
Macao is in the monsoon area and its climate is considered humid subtropical, being considered temperate and rainy in summer, the longest season of Macao. During this season, between May and October, heavy rains, thunderstorms and typhoons (tropical storms) are frequent, as well as high precipitation and temperature.
---
Official language
Chinese and Portuguese are the official languages, but Cantonese is the most widely spoken in the whole Territory. Official languages ​​are used in public bodies and in official documents. English is generally used in commerce and tourism.
---
Travel documents
All visitors must have a valid passport or travel document to enter Macao.

The "Entry Visa" in Macao is compulsory for all visitors except those who are from a visa-free country or holders of an "Entry and Stay Authorization" in Macao. For more information on visa waiver or entry permits, please refer to the Macao Public Security Police (PSP) Migration Services website.

An "Entry Visa" in Macao may be applied for in advance from the Embassies and Consulates of the People's Republic of China and must be used within its validity period. Visitors may also apply for an "Entry Visa" or "Entry and Residence Permit" in Macao upon arrival at the PSP Migration Service counters. However, nationals of certain countries are required to obtain a visa in advance, and before traveling to Macao. For more detailed information, see the website: www.fsm.gov.mo/psp/eng/psp_top5_4_1.html
---
How to get
Macau International Airport is open 24 hours a day. For more detailed flight schedule information, please refer to the website www.macau-airport.com or call +853 2886 1111.

For information on Hand Baggage Safety Procedures, please visit www.aacm.gov.mo. For detailed information regarding Immigration and Customs Formalities, please refer to www.fsm.gov.mo/eng/main.aspx and www.customs.gov.mo.
---
Gastronomy
The impressive variety of cuisines, from different origins, available in Macau - Portuguese, Chinese, Japanese, Indian and many more - makes this cosmopolitan city a true paradise for food lovers. With numerous restaurants to choose from, there are always options for all kinds of tastes.
---
Local currency
Pataca (MOP) is the official currency of Macao; It is divided into 100ths and is presented in the following notes and coins:

Coins: 10, 20 and 50 grand; 1, 2, 5 and 10 patacas
Notes: 10, 20, 50, 100, 500 and 1000 MOP.

Pataca is officially indexed to the Hong Kong dollar (HKD).
---
Electricity
The electric current is 230V and 50Hz. The sockets used are those of three round holes. The voltage must be confirmed before the electrical appliances are switched on.
---
Health and vaccination
Visitors are not required to obtain any medical certificate to enter Macao, except in special situations occurring in or near the territory. Visitors in need of treatment or medical consultation can go to any hospital or health center in Macao.
---
Communications
Great. Macau is one of the world's most 'internet connected' cities. The Macau Post and Telecommunications Bureau has been encouraging institutions in Macao to provide free Wi-Fi service in different locations through a uniformly named "FreeWiFi.MO" network, with citizens and tourists as soon as they look for it. and choose the network called "FreeWiFi.MO" in their service locations, enjoy the free Wi-Fi service.
---
Tourist points
- "The Historic Center of Macao" was inscribed on the World Heritage List in July 2005, making it the 31st designated World Heritage Site in China.
- Going to Macao's museums and art galleries is a pleasant way to make your visit to Macao even more memorable, and get to know a little more about this fascinating city, its history, and culture where the "East meets" with the West "over more than four and a half centuries.
- Visit the architecturally unique churches in the world and learn more about their fascinating stories.
- The temples in Macao are essentially Buddhist, Taoist, and Animist temples. Buddha, Na Tcha, Tin Hau (Goddess of Navigators), Kun Iam (Goddess of Mercy), etc., are all venerated gods in the various temples here.
"It's a pretty green town, with trees lined the streets and flower-filled gardens on all sides. You will find Suzhou-inspired gardens or South European-style gardens characterized by beautiful cobbled floors.
- The city is practically surrounded by sea and were built on top of the hills, a few centuries ago, fortresses to defend the city from internal and foreign invaders. These rugged stone guardians today are silent testimonies of a troubled history, as well as offering stunning panoramic views of the city.
Macau has many attractions, some traditional and some more modern, to offer visitors. From adventure, fun, meeting with culture and religion, contact with nature and wildlife, as well as the unique opportunity to discover other cultures and communities around every corner, means you will never have a dull moment in this exciting city of Macau. Explore it and have fun!
---
Presentation
Macau is an autonomous region on the southern coast of mainland China, separated from Hong Kong by the Pearl River Delta. It is one of the special administrative regions of the People's Republic of China since December 20, 1999, the other being Hong Kong. Macau has always been able to maintain a unique atmosphere that makes it very different from neighboring regions. It is today, as over the centuries, a harmonious blend of Chinese and Portuguese cultures, lived peacefully by its people. At the base of local culture is this wise way of life.
A unique destination that preserves a multicultural heritage alongside state-of-the-art tourist facilities and a full calendar of festivals and special events.
---
Other world tourist destinations
---
City destinations and weekend getaways
---
Why to book with BOOK HOTEL MADEIRA
The best prices
Our partnerships with the world´s largest operators offer research on the best market prices.
More options
At Rotas Turisticos you can book the hotel, buy the air ticket, book the transfer from the airport to the hotel and vice versa, book the local excursions, rent the car, take travel insurance and consult the places to visit and where to go.
Holiday Tips & Destinations
Hundreds of holiday destinations with all the options that allow you to easily choose the destination that best suits your dream vacation.
---
---