Hotels and other Accommodation
World Nomads
The Travel Insurance with the largest coverage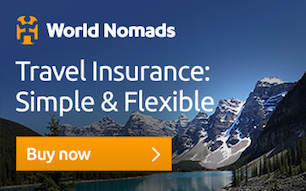 ---
Weather
The season with precipitation is hot, oppressive and overcast; The dry season is pleasant, humid and almost cloudless. Throughout the year, the temperature generally ranges from 14 ° C to 34 ° C and is rarely below 9 ° C or above 37 ° C.
The best times of year to visit Hanoi and warm weather activities are from early February to mid-April and late October to late December.
---
Security
Given the occurrence of theft to foreigners, especially by stretching, it is considered appropriate to avoid carrying the passport, and it is suggested that the traveler circulate with a photocopy of the passport for identification purposes only. In public transport, tuk tuks and motorbike taxis, care should be taken with personal property, and using hotel safes to leave valuables.
Security conditions in urban centers are relatively good, despite the occurrence of minor offenses in large cities and tourist resorts.
Vietnamese legislation is particularly strict regarding drug trafficking, including the death penalty. It is equally severe regarding the transport of certain medicines.

In case of demonstrations that may occur in this country, we advise all visitors to avoid the affected locations.

Emergency Line for Local Police: 113

Fire Line: 114

Ambulance Emergency Line: 115
---
Tourist points
In addition to the beautiful architecture, much of it dating back to the colonial period, you will also find a collection of museums that will tell you all the history of this part of the country. You can also visit traditional Vietnamese landmarks such as temples and pagodas, and if you like photography then you will be spoiled for choice.
Hanoi is also known for its delicious gastronomy and you can pass by a bowl of noodles or chew a tasty sandwich like Banh Mi. In addition to food, Hanoi still retains beautiful traditional parts of the city, such as the Old Quarter, or you can stroll along beautiful lakes and lush parks.
Visit Hoa Lo Prison. Walk around Hoan Kiem Lake. Visit the Museum of Ethnology. Admire the Bach Ma Temple. Visit the observation deck of the Lotte Tower. Take the Tour of the National Museum of Vietnam History. Watch a performance at Thang Long Water Puppet Theater. Take the Vietnamese Women's Museum Tour. Stroll through the Imperial Citadel. Visit the Memorial House. Among many more tourist attractions!
---
Gastronomy
Each Vietnamese dish has a distinct flavor that reflects one or more elements. It is rich in flavor, following well the logic of Asian cuisine, also full of colors, aromas and textures. Common ingredients include fish sauce, shrimp paste, soy sauce, rice, fresh herbs, fruits and vegetables. Vietnamese recipes use lemongrass, ginger, mint, Vietnamese mint, coriander, Vietnamese cinnamon, pepper, lemon and basil leaves.
Traditional Vietnamese cuisine is much admired for its fresh ingredients, minimal use of oil, and dependence on herbs and vegetables. With a balance of herbs and fresh meats and a selective use of spices for taste, Vietnamese food is considered one of the healthiest cuisines in the world.
---
Presentation
It is the capital and second largest city of Vietnam. It is known for centuries-old architecture and a rich culture with influence from Southeast Asia, China and France. In its center is the chaotic historic center, where the narrow streets are more or less organized by sector. There are many small temples, including Bach Ma, in honor of a legendary horse, and Đồng Xuân Market, which sells household items and street food. It is located on the right bank of the Red River.
Hanoi is considered one of Vietnam's cultural centers where most Vietnamese dynasties left their mark. Even though some relics have not survived wars and time, the city still has many interesting historical and cultural monuments for visitors and residents themselves. The city has over 1000 years of history, and the last one hundred years has been well preserved.
---
Other tourist destinations in:

Vietnam
---
Other world tourist destinations
---
City destinations and weekend getaways
---
Why to book with BOOK HOTEL MADEIRA
The best prices
Our partnerships with the world´s largest operators offer research on the best market prices.
More options
At Rotas Turisticos you can book the hotel, buy the air ticket, book the transfer from the airport to the hotel and vice versa, book the local excursions, rent the car, take travel insurance and consult the places to visit and where to go.
Holiday Tips & Destinations
Hundreds of holiday destinations with all the options that allow you to easily choose the destination that best suits your dream vacation.
---
---